Overview
Reform of the food regulatory system
In March 2020, the Australian New Zealand Ministerial Forum on Food Regulation (the Forum) endorsed an implementation plan for an ambitious reform agenda for the food regulatory system aimed at ensuring the system remains strong, robust and agile into the future. The reform agenda is being progressed through a number of interconnected projects.
This consultation is part of the first stage of the Review of the Intergovernmental Food Regulation Agreement project, highlighted in yellow below, but will also inform the collaborative food regulatory system reform work more broadly.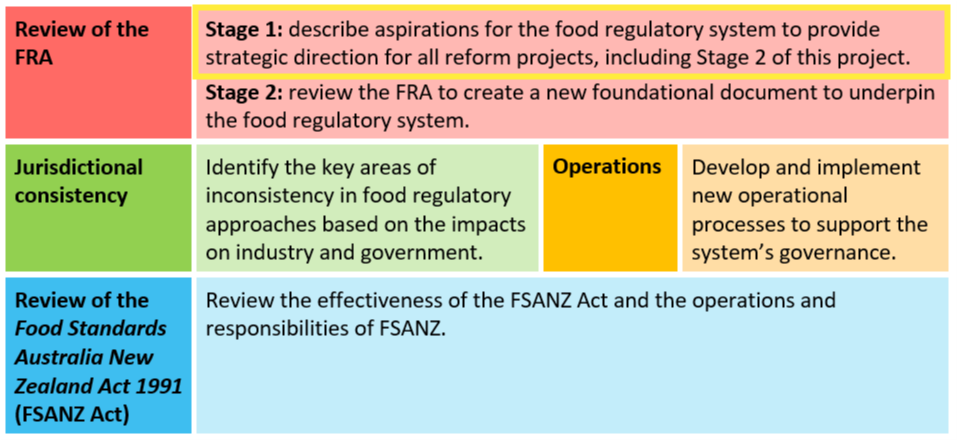 While these projects are being progressed in parallel (with separate consultation processes focusing on different elements of the system), the outcomes of each of the consultation processes will be drawn together to inform decisions of the Forum and drive the ongoing continuous improvement of the food regulatory system.
Why your views matter
The outcomes of this consultation regarding the aspirations for the food regulatory system will inform the strategic direction for each of the above reform projects.
Stakeholder feedback is primarily sought on aspirations and high level actions. Following consideration of stakeholder feedback, the aspirations and actions will be further refined and provided to Ministers for agreement. Once a final vision for the future of the food regulatory system has been agreed, stakeholders may be further consulted on the detail and implementation of individual actions.
Important Note
The matters outlined in the Consultation Paper have been identified based on the outcomes of previous reviews, review of international food regulatory systems and consultation with the Food Regulation Standing Committee (the FRSC) and others. Proposed aspirations and high level actions are intended to prompt stakeholder input on the broad principles and parameters for reform which will, in turn, inform next steps.
Download the Consultation Paper
Before you begin, please download the Consultation Paper - this document contains important contextual information needed to complete the four consultation questions. You can also download a word version.
Responding to the consultation
Your responses to the four consultation questions need to be submitted through this online consultation platform. It is not necessary to complete the survey in one sitting. You can save your answers and come back later.