Overview
In March 2020, the Australian New Zealand Forum on Food Regulation (the Forum) endorsed an implementation plan for an ambitious reform agenda for the food regulatory system aimed at ensuring the system remains strong, robust and agile into the future. The reform agenda is being progressed through a number of interconnected projects: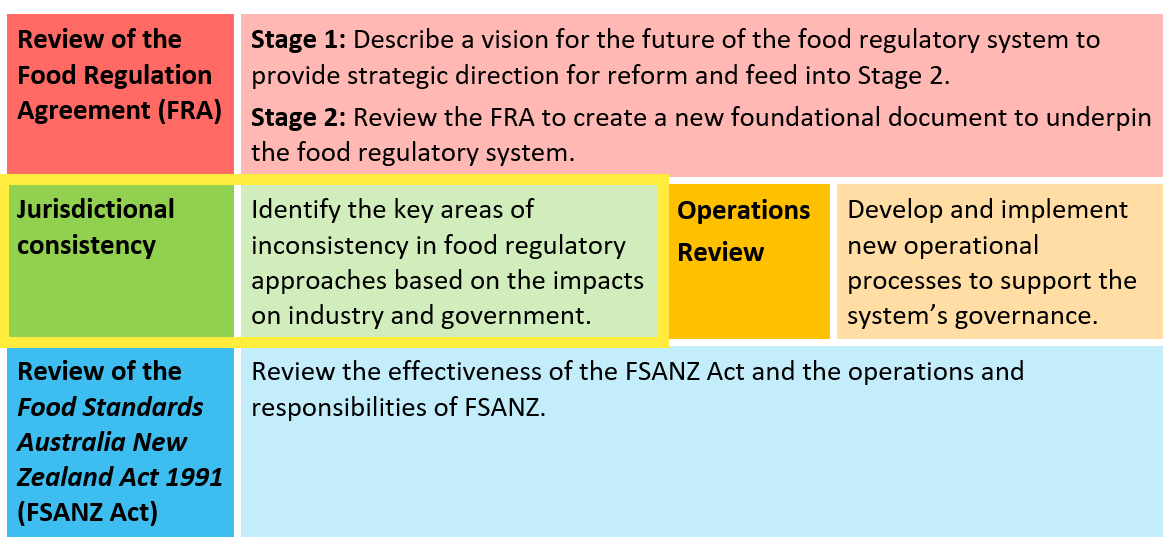 While these projects are being progressed in parallel (with separate consultation processes focusing on different elements of the food regulatory system), the outcomes of each of the consultation processes will be drawn together to inform decisions of the FRSC and the Forum in relation to the future of the food regulatory system.
Why your views matter
This consultation process seeks stakeholder advice on areas of inconsistency in food regulation (highlighted in the green box above) and the impacts of this on businesses and regulatory outcomes. Impacts might include adverse regulatory outcomes (for example, undermining food safety objectives, causing reputational damage to the food regulatory system, creating confusion for consumers, etc.) and/or creating adverse outcomes for food businesses (for example, in terms of cost, compliance burden, market disadvantage, lost opportunity, uneven playing field, duplication of effort, etc.).
Stakeholder advice is also sought on areas of duplication between the food regulatory system and related regulatory systems (such as consumer affairs, biosecurity, agriculture, therapeutic goods, etc.).
Case studies, examples and information about the impacts associated with any inconsistencies or areas of duplication will assist in informing priority areas for reform. This information is critical to enable governments to make evidence-based decisions regarding the future of the food regulatory system.
Preview consultation
You can download a preview of the Survey Questions under the 'Related documents' link at the bottom of this page.
A supporting Consultation Paper has been developed to assist stakeholders in responding to the survey questions. You can download this under the 'Related documents' link at the bottom of this page.
Responding to the consultation
Responses to the consultation questions are to be submitted through the online consultation platform. It is not necessary to complete the survey in one sitting. You can save your answers and come back later.